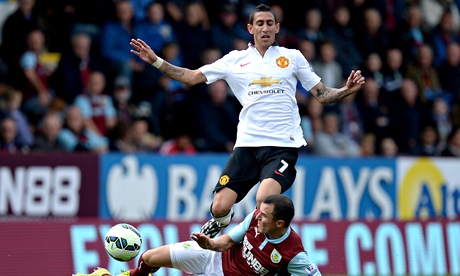 It feels as though a lot of people are simply waiting for 'the reaction', at present. Manchester United, and all that name entails, lead by the confident, no-nonsense Louis van Gaal after a disastrous campaign that ended in 7th place….it certainly felt like being confident was acceptable. But as today's scoreless bore-draw displayed, United are still some way from rediscovering their swagger, even with nearly £60m of fresh attacking talent laid on top.
Angel Di Maria, despite only featuring for 70 minutes was easily the brightest spark at Turf Moor, as Sean Dyche's Burnley side sought to out-fox Van Gaal and his misfiring superstars. And it's as much a sign of the home side's determination to allow as little space as possible that they were very rarely troubled, although another United performance lacking in fluidity and pace certainly helped. The Argentine certainly made a difference, laying a gorgeous long-range ball onto Robin van Persie's chest, but the Dutchman's strike couldn't escape Tom Heaton's arm. His energy and desire were clear, whether that was making sure an errant Antonio Valencia cross was shepherded out of play carefully or linking well with those around him, Di Maria was certainly providing a little spark.
Trouble was that his colleagues weren't exactly responding in kind. Juan Mata, Van Persie and Wayne Rooney struggled for rhythm and space, which was enough encouragement for the home side to begin to exert some pressure. After David Jones stung the cross bar with a free kick, Tyler Blackett's misplaced pass almost caused David de Gea a big problem but for an off target header, and Jones stung the Spaniard's palms with a rasping drive after Di Maria had accidentally knocked the ball into his path. Scott Arfield almost created another famous moment for Turf Moor after nutmegging Blackett but his strike was blocked in close sight of goal. At the other end, Ashley Young, having enjoyed a useful first half felt he might have been worthy of a penalty but Kieran Trippier's shove wasn't deemed sufficient enough to warrant it.
Chances all but dried up for the home side in the second half thanks to resolute defending from United's back 3/5 but there was precious little excitement at the other end. A surging run from Di Maria on the left hand-side offered a brief variation on the theme just before the hour mark, but Van Persie's eventual shot was blocked by Dean Marney. The Argentine didn't last much longer after picking up a knock, and Van Gaal was reduced to turning to Anderson as a replacement, a player clearly not in the Dutchman's plans. Mata and Van Persie's substitutions for Adnan Januzaj and Danny Welbeck respectively fared little better as United continued to stutter in attack. Burnley were gifted far too much time to settle when they lost the ball, and United still lack the invention and confidence to try anything other than the eventual shunt to the flanks, which almost always ended in a poor cross.
In the end, vociferous appeals for a late hand-ball against Ashley Barnes offered the most intensity seen from the visitors all afternoon, and the match ended in a point apiece. United's performance deserved little else, in all honesty; they're still well short of the power, desire and sharp use of the ball needed to break down teams willing to sit back and await an attack. And until United come up with a few more ideas when ten outfield players stand between them and goal, they will remain relatively easy to defend against. Di Maria will add some welcome pace to a side that still looks far too slow, spearheaded by a talented trio that, at present, look ill-suited to each other. For Van Gaal's part, he must be surprised to have taken just two points from three very winnable games, but the worrying aspect is that, at present at least, he and his charges appear to be struggling to come up with ways to spark their season into life.