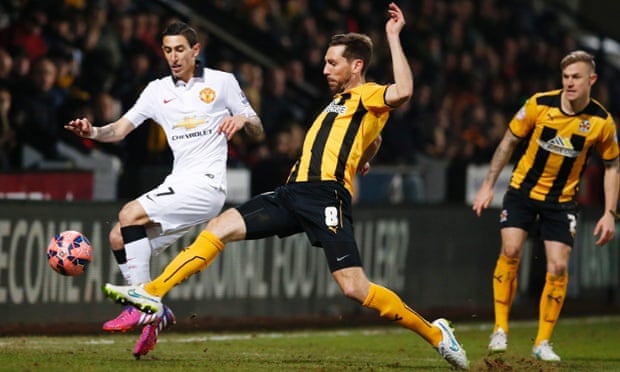 If anything good came out of this Friday Night FA Cup tie, it's that the revenue a replay in Manchester will generate for Cambridge United will be greatly received by a club of modest size. The Abbey Stadium erupted at full time, with the score still the same as it was at kick off, with the hosts having done their job and blocked Louis van Gaal's side from progressing to the fifth round with a spirited, committed and highly organised display. For the visitors, there was no magic and no positives to take from another frustrating performance that allowed the negative aspects of this current reign to take centre stage. Should the job be done at Old Trafford in the near future, then this night will be of little consequence to a club still searching for their identity in the post-Sir Alex Ferguson landscape. The real worry at present appears to be just why their current state is so ineffective.
One of the more disappointing aspects to life under Van Gaal is that it's simply not much of a surprise to see United struggle. Not that they are the first Premier League superpower to stutter against lower-league opposition in an FA Cup tie, but in the context of their season, this slow, pondering and toothless display came as no surprise. Even with 3-5-2 temporarily banished, United failed to impose themselves on their hosts for large chunks of the evening Daley Blind and Adnan Januzaj both firing at goal with purpose but little threat in the opening period. The home side were more than happy to sit back and gallop towards David de Gea whenever the opportunity presented itself, with Ryan Donaldson's deliveries and Cambridge's height advantage causing more than one anxious moment in the United penalty area. As such, the fact that the half's best chance fell  to the hosts held little shock value. Josh Coulson looped a close-range header over the bar after Marcos Rojo had failed to clear in a crowded penalty area, with the visitors offering little in terms of a riposte.
As the game hit the hour mark, United at least began to exert some control in possession, but the threat was minimal on Chris Dunn's goal until Michael Carrick sliced a rare hole in the home defence. His curling pass found Radamel Falcao who latched onto the ball with relish, but the Colombian's woes in front of goal continued with Dunn's outstretched hand forcing his close-range effort over. Robin van Persie's strike from Angel Di Maria's fine pass went the same way, the substitute firing over as Dunn advanced. The pressure looked to be building until the home side, buoyed by United's lack of cutting edge started to believe a result was on the cards and decided on earning themselves some possession.
And who could blame them? Bar those two presentable opportunities, United had been beyond tepid all evening. There was still time for Dunn to punch Januzaj's deflected drive and block Di Maria's follow-up in the dying minutes, but a replay at Old Trafford was the least the home side deserved, and in truth, such an outcome rarely looked in doubt. For Van Gaal and United, the questions are simply continuing to pile up, and at present, it's difficult to see when answers will be on offer.