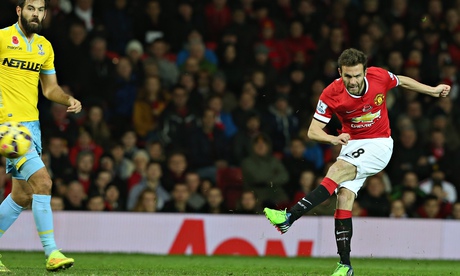 It's a strange time to be a Manchester United fan. A large proportion of the club's fanbase felt a sense of pride and refused to be too downbeat after last weekend's derby failure at the Etihad, looking for the positives in that 1-0 defeat. Fast forward six days, and the immediate reaction was relief mixed with sincere misgivings as Louis van Gaal's side toiled to a victory over the same scoreline over a dogged Crystal Palace. Not that the Dutchman will be too worried, you'd imagine; indeed, having secured his first win in five weeks, he's surely more relieved than he's willing to admit. It was a win that many will have predicted with their weekend bets, but a win nonetheless.
United dominated and probed all afternoon long but were met with a stubborn resistance that wasn't severely tested, a situation that half of this starting line-up will recall well from last season's antics under David Moyes. The suggestions are that £150m of talent should be able to jig this side into life, have them looking sharper, ripping lesser opponents apart and climbing its way back up the table. But as the home side settled into their restrictions, passing up and down the flanks and pushing for Angel Di Maria and Adnan Januzaj to make a difference, an inescapable sense of deja vu took hold. This, for all of the change that has swept around the club was not far enough removed from last year. Robin van Persie looked less-than inspirational, Wayne Rooney somewhat aimless and United's back-four, though ragtag and rarely tested almost cost their colleagues dearly by letting Frazier Campbell slip through their momentarily soft underbelly. There are some differences from last season, of course. On this occasion, the striker lifted the ball over David De Gea and the bar with a clear sight at goal. On this occasion, United won.
That was Palace's moment in a first half filled with graft and the occasional misleading flash of inspiration. A routine clearance deceived both Daley Blind and Paddy McNair and Campbell was through. Had United's former academy product hit the target, the home side would have had little to regret. Bar Adnan Januzaj's early long range effort and Van Persie's nearly-but-not-quite low cross for Maroaune Fellaini, chances were thin on the ground. Julian Speroni was, barring Luke Shaw's surging run and shot, largely untroubled in the visiting goal, and his back four were recognisably well-drilled. . When Di Maria offered the same spurt of energy and laid the ball off for his captain, Rooney sent his shot hilariously high and wide. It didn't quite sum up United's half, but it wasn't far off.
Direction was needed. Fellaini sent two headers towards the Stretford End from corners, the first cleared on the goal-line, but that wasn't close enough. When the chance was made, Juan Mata didn't offer the spark or energy that United were missing, but he did something that his colleagues had done little of with a quarter of the match remaining; he shot at goal, and got it on target. In truth, Speroni should have done better with the Spaniard's strike from outside of the area but the Argentine reacted too slowly, and there seemed little point being ungrateful when the deadlock was finally broken. Januzaj had endured a frustrating afternoon, struggling with his delivery and whilst Mata's introduction didn't suddenly make United click, a deflected late strike that met the post confirmed that his introduction had overshadowed all that had come before it.
There were positives elsewhere; Michael Carrick's return to the starting line-up in central midfield before shifting back to defence went as smoothly as such re-introductions can, and Shaw's performance, controlled, dangerous and effective outstripped all around him. But despite the victory, this wasn't a performance to savour. It wasn't fractured or explosive; it never really got going. The big guns looked lost, especially a tired-looking Di Maria and Van Gaal's gameplan wasn't working. However, one fantastic substitution changed the game, and provided United with a crucial win as they attempt to impose themselves on the Premier League's top four. Having failed to earn three points since the 5th October, forget the performance. At this point, the words "Work in Progress" are lacing practically every statement Van Gaal makes, so with that in mind, and an injury list as long as the Old Trafford pitch, accepting victories, however they may come, seems especially prudent.