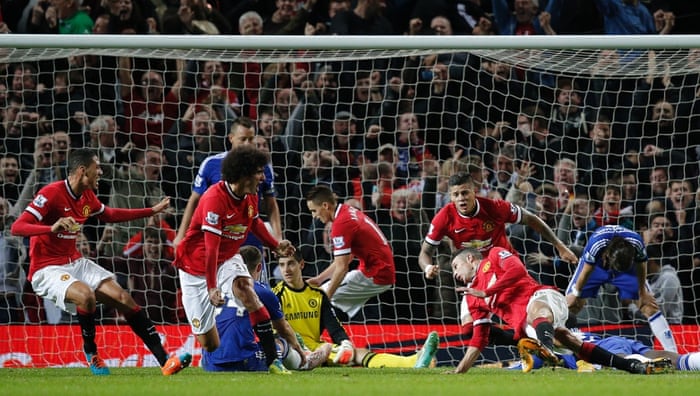 Given what had come before it, Robin van Persie's 93rd minute strike was perhaps the most welcome goal of Manchester United's Premier League campaign. After Didier Drogba had headed Chelsea into a second half lead, Louis van Gaal's side, missing Radamel Falcao through injury had struggled to make a dent in the visiting defence, and were staring at a third defeat of the season. A late equaliser against the league leaders, despite clear issues with the performance, certainly helped.
The established narrative was for this to be an afternoon for United fans to suffer through, given the disparity between themselves and Chelsea in the league table and in their performances. Van Gaal's defence, shorn of Phil Jones after yet another injury were far from convincing yet again, Rafael earning an early booking for grabbing Eden Hazard and the central duo of Marcos Rojo and Chris Smalling both guilty of poor passes in dangerous areas. But United still offered a threat, breaking at pace early on and seeing Van Persie and Angel Di Maria pass up presentable opportunities. Adnan Januzaj inparticular looked far sharper going forward than he had in the Midlands six days ago, and United maintained a compact shape that (mostly) kept Chelsea at bay when they ventured forward. Maroaune Fellaini's presence was instantly justified given how quiet he had managed to keep Cesc Fabregas, but Van Gaal was still grateful for David de Gea's save after a poor Rojo clearance set up the returning Drogba for the chance of the half just inside the area. The deadlock was warranted; the first half was equal parts tight and stretched, but neither team truly shone.
The visitors decision to up the tempo paid off handsomely after the break, and having seen Fellaini flash a shot just wide of Thibault Courtois' goal, Drogba opened the scoring. De Gea had done brilliantly to keep out Hazard with the Belgian clean through, but Drogba headed home the resulting corner with Rafael hopelessly outmuscled and Van Persie flapping on the post. United struggled for rhythm thereafter, and Chelsea were able to keep them at bay without breaking much of a sweat. Branislav Ivanonvic's dance into the penalty area and subsequent flash across goal was far more threatening than anything that the home side could conjure up, and with Di Maria, this season's inspiration unable to get around Chelsea's brick wall, the home side looked flat.
And with the visitors happy to shut up shop at 0-1, with over 30 minutes remaining, the game looked to have petered out. United threw belated crosses far too close to Courtois and the Belgian keeper looked unflappable. The lack of noise at Old Trafford signified that the home fans didn't believe a comeback was possible, and having seen plenty of similar situations end in a whimper since Sir Alex Ferguson's reign ended, no one could blame them. But then again, given Van Persie's 93rd minute equaliser and Daley Blind's late leveller against West Brom, maybe that narrative is being tested. Ivanovic's foul on Di Maria brought a second booking and a red card, from which the Argentine found Fellaini. When his header was saved well, the Dutchman swept home the rebound to earn a point that had long since looked beyond United, and end the afternoon's work with a decidedly brighter outlook.
Van Gaal will have learnt little that he didn't already know about his side in this last week. Defensive gaffes are still present and United's inability to trouble Chelsea's defence once Mourinho had settled for 0-1 was a worry. But having clawed back two points from losing positions twice in six days, he'll no doubt welcome a return to that famous penchant for late dramatics. Given the 13-point gap between United and top spot that would have existed had the scoreline stayed the same, the timing was impeccable.