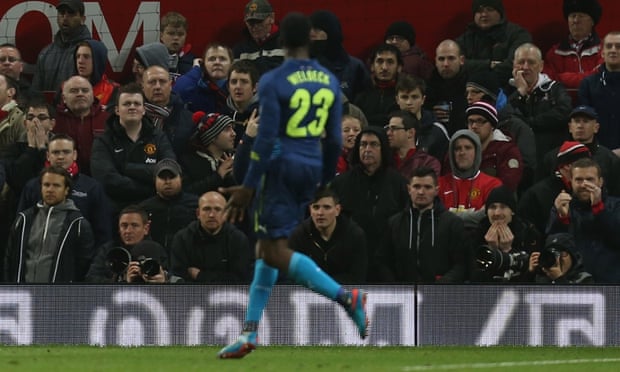 So much has been made about the romanticism of the FA Cup this season that it made perfect sense for Manchester United's former striker and boyhood fan to slot home tonight's winner. Danny Welbeck wheeled away having proven something to Louis van Gaal tonight having moved to North London in the summer; that he is in possession of a side that is still struggling to fully buy into his methods. Arsenal celebrated a first win away in this fixture for nine years, and dumped United out of the only trophy they could have lifted this season. As evening's go, it was not one to savour.
This season's lack of European football means that Old Trafford has become somewhat starved of grand occasions during the working week, lending a little more excitement to the tie in the build-up. Not that it really needed it, of course. The flames that used to surround these meetings are mostly embers these days, but given the need on both sides to end this season on a high note after uncertain league campaigns, the match, and its subsequent reward of a Wembley semi-final date, felt more significant.
The uncertain nature of United's back four provided the first half's opening spark, Angel Di Maria and Antonio Valencia allowing Mesut Ozil to skip towards goal and feed Alex Oxlade-Chamberlain. The England winger was the cause of noticeable unrest on United's left, and danced around three challenges before feeding an unmarked Nacho Monreal to clip home the opener to David de Gea's left, with Di Maria close by in body, but certainly not in spirit.
United were back in the game minutes later. Thankfully, the Argentine was a lot more switched on at the other end of the field, and after several dangerous curling crosses from the right-flank, he found Wayne Rooney, who nodded home unchallenged. The sparring continued thereafter, Danny Welbeck almost scoring a dream goal on his first return to Old Trafford from the ever dangerous Oxlade-Chamberlain's cross. The Stretford End was thankfully spared having to force a reaction for their former son due to a weak header that De Gea was able to gather. At the other end, Di Maria continued to probe the visiting backline, forcing Wojciech Szczesny into a low save after Valencia's long-range pass.
Van Gaal offered an immediate response to the space afforded to Arsenal down United's left, Phil Jones coming on for Luke Shaw with Marcos Rojo prodded out wide (Michael Carrick's switch for Ander Herrera was far less necessary). Not that this defensive reshuffle aided Chris Smalling much; his slip allowed Santi Carzola a run at goal as the second half began, and he had Valencia to thank for taking the mustard from Alexis Sanchez' strike with De Gea gathering easily. United replied with Di Maria fizzing a shot wide after a loose clearance by Szczesny, which was rued immediately as Welbeck gave Arsenal their second lead of the night. Valencia's horrifically underpowered back pass to De Gea left the Spaniard stranded. He rounded the United keeper and slotted home, celebrating without restraint in front of the club that he'd always supported. It was somewhat refreshing, despite the sting.
Smalling should have given United another immediate equaliser minutes later but he couldn't keep Michael Carrick's flick down from Di Maria's corner with the goal gaping. As the half wore on, the fear of conceding a third seemed to outweigh the likelihood of forcing a second, and Carzola should have had the final say with his low strike from Sanchez's cross. De Gea's subsequent save looked to have handed United a lifeline which was then all too foolishly thrown away. Di Maria tumbled on the edge of the area from minimal contact, drew a booking and then inexplicably grabbed referee Michael Oliver's shirt. At least the reaction, a wide-eyed, incredulous look from the official offered some humour in the madness that followed, as there was nothing funny in the red card he dished out shortly afterwards.
Worse diving was to follow, with United's third substitute Adnan Januzaj booked for diving after a tangle with Monreal on the edge of the Arsenal box. From then on, all the home side could do was send hopeful punts towards the head of Fellaini, and it yielded nothing. At the other end, Sanchez almost added some polish to the scoreline but De Gea again intervened from a tight angle in stoppage time.
It was tough to deny Arsenal victory, though. They had stood firm in a situation that they've melted in countless times, and pounced on United's defensive errors with glee. For United, another enduring image should stand beside Di Maria and Valencia's mistakes; in the final minute of stoppage time, with United needing a goal, the ball fell to Jones on the halfway line. He punted the ball deep into the penalty area, and not one single red shirt felt it worth their while to get near it. A lack of communication, some unsettling substitutions and some moments of madness cost United dearly, and they will end a second successive season without any silverware of note. A battle with fellow top-four hopefuls Tottenham Hotspur on Sunday offers a chance for an immediate response , but on the basis of tonight's efforts, confidence within Old Trafford could understandably be thin on the ground.