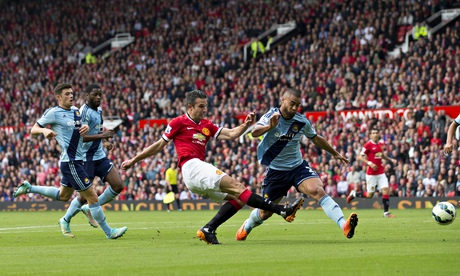 After a summer of upheaval and change at Manchester United, and after repeated claims of an abandonment of the club's ethos that veered too far away from reality in search of a good story, this afternoon's tight, tense and willdly stressful victory over West Ham was a welcome tonic. Not just because it helped United record their second victory in six league games, not simply because it eased the pressure on a manager struggling to field anything remotely approaching an experienced back four, but because Manchester United were today forced to fight for three points with a numerical disadvantage and survived to win. Such fight, previously taken for granted as standard has been missing for quite some time, and after Wayne Rooney's foolish red card with a third of the game still to go, Louis van Gaal can head to bed with a feeling of deep satisfaction having seen his team survive an intense examination.
It's worth noting that some things haven't changed since Sir Alex Ferguson's exit; United still have a rather worrying tendency of making life harder for themselves, and given that this afternoon's back four featured two players making their debut at Old Trafford and another who had yet to play centrally this season, further complications weren't exactly desired.
Admittedly, the zest of their attacking play in the game's opening stages had most wondering just how  big the response to last week's collapse in Leicester would be; Rooney's delightful finish, sweeping in an excellent cross from Rafael in the first five minutes and Robin van Persie firing in a second after Ander Herrera and Radamel Falcao had combined had certainly helped to distract from any nightmares of Jamie Vardy et al. But United, perhaps predictably given the personnel still appeared susceptible when West Ham pressed. Daley Blind's loose pass inbetween the two goals might have yielded an equaliser from Enner Valencia had the Ecuadorian not blazed over, and the stunned response to his header hitting the crossbar allowed Diafra Sakho to halve the deficit.
Had United been playing a side with less confidence, or even less belief then perhaps Rooney's red card for a poorly-judged kick at Stewart Downing may not have crippled them so. As it was, with Angel Di Maria suffering from effective marking and West Ham's physical presence amongst other things, the loss of their captain effectively consigned his side to a 30-minute siege that United did well to (mostly) repel. Thankfully, a combination of sub-standard delivery and a contentious offside decision when Kevin Nolan had tapped home certainly helped, but Sam Allardyce's side were visibly buoyed and put Marcos Rojo and 19-year old debutant Paddy McNair under intense pressure. Both coped well, with the latter surely saving an equaliser with an acrobatic flicked header and the former acting as a surprisingly calming presence in a back-line lacking in authority.
What will surely please Van Gaal most is the sight of his team refusing to wilt under a stern examination. Suggesting that this was 'just' West Ham does a great disservice to the team that so impressively earned a 3-1 victory over Liverpool last weekend, and they didn't look anything like a side that had lost 19 of the last 21 fixtures between these two at Old Trafford. It was a tough test, and United still appear to be a side that wince from glancing blows with worrying frequency. They'll face Everton next weekend without their captain through suspension, but at least they'll do so having gained some much needed confidence from a battling win. Given how rarely a feat such as this was achieved last season, it could be quite a significant one at that.