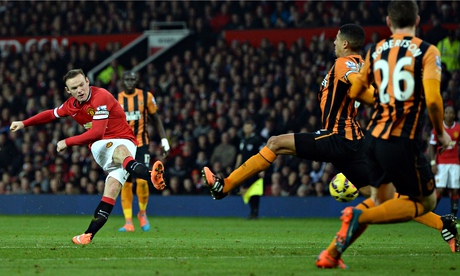 Whisper it, but confidence is returning to Old Trafford. Last season, Manchester United's home was all-too often bereft of joy and was witness to numerous disappointments, but having recorded their third-straight Premier League victory for the first time since last December, it's safe to say that Louis van Gaal is beginning to see the fruits of his labour. Hull City were uninspired and overly generous to their hosts, yes, but United more dominant, controlling and fluid as they've been all season long.
The sting in the tail to the result is the loss of this season's star performer Angel Di Maria to a hamstring injury early on, although it was eased thanks to the manner in which the home side romped to victory. Steve Bruce's side had failed to get anywhere near to David De Gea's goal before Chris Smalling bundled in United's opener from a corner, although goal line technology and Allan McGregor's unsuccessful parry certainly helped. The centre back has enjoyed a mini-renaissance since his red card in the Manchester derby, and it was a sign of United's utter dominance that his standout contributions came at the other end of the pitch. Marcos Rojo enjoyed a relatively quiet reintroduction to the side, with Juan Mata and Di Maria's replacement Ander Herrera linking effortlessly in midfield.
United were again indebted to Hull for their second. After Mata's cross for his compatriot had squirmed loose, Curtis Davies inexplicably let the ball roll along the edge of his penalty area. Robin van Persie, himself desperate to score after recent criticism, teed up Wayne Rooney to curl home a delightful strike from just outside the box. 2-0 just before half time, game well and truly over.
United's recent tendency to switch off whilst in possession of a useful lead appeared absent in the second half, and having weathered a temporary revival from their opponents, including a useful burst but tame shot by Allan Robertson and a strong header from Nikica Jelavic, they seemed intent on putting the game to bed. Van Persie obliged in that department, but the emphasis with which United's third was delivered was a poignant and timely reminder to many of the Dutchman's quality. More slack passing allowed Herrera to set up Van Persie on the edge of the area, but the turn, strength and sheer power behind his rising strike into the top corner were all reminiscent of the player that Sir Alex Ferguson has signed almost two years ago, the one that could magic a goal from anything.
The ovation that greeted his subsequent substitution after the hour mark must have felt like a sweet relief, allowing Radamel Falcao his own chance to kickstart his season. The Colombian will be cursing Michael Dawson for an incredible goal-line clearance at close range after superb link-up play with Mata, but given December's traditionally packed fixture list, a goal will soon be forthcoming. And in truth, it was the least of United's worries. Van Gaal may be shorn of Di Maria on Tuesday against Stoke, but he has seen rising evidence to suggest that he is creating a team that can adapt to the mounting list of injuries they possess. Now, the challenge is to see just how high they can go.