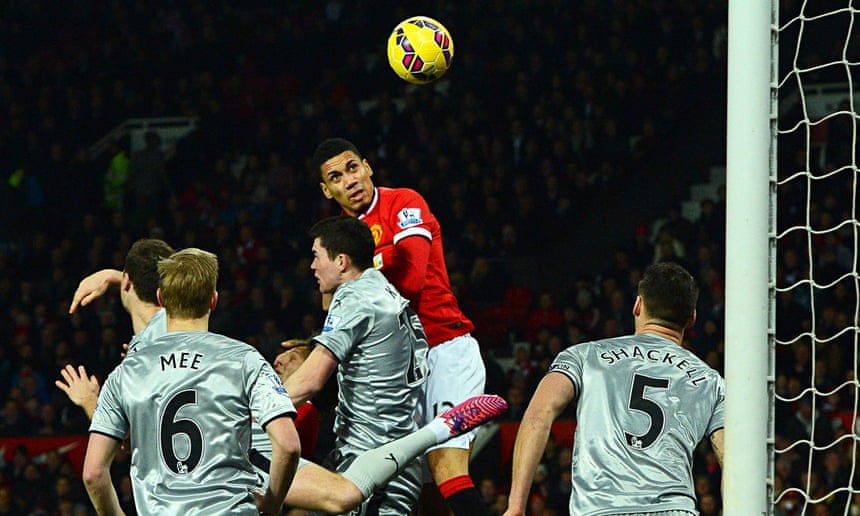 Louis van Gaal's Manchester United side currently sit third in the Premier League. Sometimes, as with tonight's frequently lackadaisical 3-1 win over Burnley, it's a wonder as to how they've managed it, and the Dutchman had another saviour to thank after Chris Smalling came off the bench to notch a brace of headers inamongst a fearless first-half performance from the visitors. Fluency is still utterly absent from Van Gaal's United; positive results, thankfully, are not.
It doesn't take a giant leap of faith to suggest that the reaction that would have greeted the home side at half-time had Smalling not notched his second of the evening in stoppage time would have been less than lukewarm. This was as clueless a half of football as United had offered under Van Gaal, rivaling the darkest days of his predecessor for sheer lack of direction and verve. Burnley had already arrived at Old Trafford with a defiant air; few teams have the belief, let alone the guile to claw back a two-goal deficit away at the Etihad, but even they must have been surprised at the ease at which they were allowed to cause trouble in the opening half. Michael Keane, himself a product of United's academy headed just wide from an early corner which claimed Phil Jones for the evening due to an ankle injury. His replacement wasn't expected to offer United's greatest goal threat, but his first touch was to head home after another corner bounced around the area on its goal-bound journey, but the lead counted for little. Five minutes later, Angel Di Maria, one of the half's less distinguished performers accidentally fed Kieran Trippier on the right wing, whose excellent cross found Danny Ings who duly obliged with a superb headed equaliser.
What followed didn't beggar belief; the last few months of watching this United side play football should prepare one for most outcomes, but it still made for a rather harrowing experience. Van Gaal's brightest assets, still under scrutiny after a poor performance three days ago at Upton Park looked utterly lost, losing the ball at almost every useful opportunity and struggling to find any way past Burnley's high-line. Sean Dyche's side seemed happy to press up the pitch as far as they could, safe in the knowledge that the home side would eventually lauch a long ball into the mix that they wouldn't hold onto. The sight of Wayne Rooney assuming Daley Blind's role in defensive midfield after the Dutchman left the field with a head injury added further ignominy to proceedings, which made Smalling's second, from a well-worked corner routine ending in a far-post header from Di Maria's pinpoint cross all the more surprising. And somewhat undeserved.
The mood around Old Trafford would have been a little less forgiving had Ings punished another defensive mix-up immediately after the break. George Boyd was allowed to cross from David de Gea's left with the Spaniard safely assuming that Smalling and Blind's replacement, the frequently absent Ander Herrera would clean up. Neither did, and the ball squirmed through to Ings who should have brought Burnley level for the second time from close range. Jonny Evans was enduring a torrid evening, gifting Burnley with possession and impetus at every turn before the visitors steam began to run out with a quarter of the match remaining, and the home side assumed control of possession. Di Maria was United's biggest threat, but it took until after 70 minutes for the home side to threaten Tom Heaton's goal, Jason Shackell heading the Argentine's dangerous cross over the bar from a rare United break.
When United's breathing space finally arrived, it wasn't a huge surprise that it came as a consequence of Di Maria's pace, inviting Scott Arfield to challenge him as he sped towards goal from the left-hand side. Arfield obliged, bundled the no.7 over and Robin van Persie dispatched the resulting spot-kick into the bottom left-hand corner with a minimum of fuss. Quite the opposite from the way United had conducted themselves for most of the evening, really.
That killed the game. Adnan Januzaj and James Wilson both had sights at goal to add a fourth, the former seeing a drilled effort cleared off the line but it mattered little. Once again, it was an evening for United's fanbase to endure rather than enjoy, but still it ended with United sitting in third. It won't stop the debates currently being had at this very moment amongst Old Trafford's attendees; neither should it. But as a footnote ahead of another big night for the club in the only competition they have a hope of winning this season, it'll certainly do.