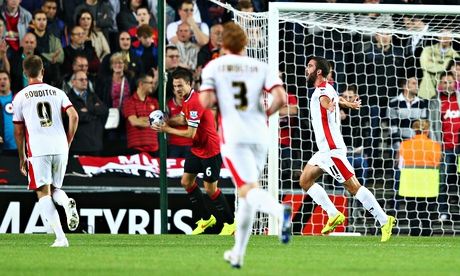 This was not how Manchester United, least of all its press office, saw this evening panning out. Having announced the signing of Angel Di Maria for a British record fee of £59.7m proudly before kick-off, the club were expecting to keep the good news rolling with Louis van Gaal taking young prospects, squad players and a few misfits to Milton Keynes for a second round League Cup tie. News of the Argentine's arrival was quickly dwarfed after a humbling at Stadium:MK, however, the League One side overwhelming United and effortlessly showing off the sort of power, effort and clinical finishing that the Dutchman has yet to draw out of his own players. Yes, this was not United's strongest XI by any means, but you could use every synonym for embarrassing known to man and still not cover quite how poor this evening's work was.
In the early offing, United looked every inch a team filled to brim with players looking to prove a point. There was energy, pace and directness, all of which have been in short supply so far this season, and it culminated in a curling long-range effort from Nick Powell that went only just around David Martin's goal. Such dynamism lasted for around ten minutes, as the home side quickly found their feet against such an unfamiliar line-up. Speculative attacks became worryingly easy to combat, and given the opportunity to run at United's back three, Dons' confidence seemed to grow.
United's rhythm had been disrupted, but it still didn't excuse the manner in which the deadlock was broken. Captain for the evening Jonny Evans was given plenty of time to clear the ball from the back of his penalty area but a casual clearance was easily telegraphed by Ben Reeves, who simply had to centre for Will Grigg to fire home. Shinji Kagaw'a's early exit with blurred vision after an earlier knock certainly didn't help, but United, still appearing at odds with Van Gaal's insistence on a 3-5-2 formation struggled to muster any sort of response, only offering another long-range Powell strike that, again, didn't force Martin into a save to Grigg's strike before the first half was over.
The second offered another energetic start from the visitors, but with little to show for it. And when Grigg added a second with twenty minutes remaining, he had done so not against the run of play, but as a response to yet more ponderous build-ups from United. With possession conceded whilst trying to play their way out of defence yet again, Reeves crossed to Grigg who nonchalantly chested the ball home with Anderson the only force of resistance anywhere near. The Brazilian managed an ineffective flap.
What followed went beyond the realms of a mere unexpected League Cup exit and turned into a darkly comical humbling. Reece James' poor touch saw Reeves pounce again, playing in Benik Afobe to slide under De Gea for number three. He had only been on the pitch a matter of seconds before that strike, and added MK Dons' fourth aswell a seal on a memorable night five minutes from time. Evans, Andres Periera and Michael Keane comically failed to connect with the ball on the edge of their area, and the substitute waltzed up to De Gea seemingly unchallenged to slide home. It rounded off a perfect evening, and it was no more than Karl Robinson and his charges deserved.
Concentrating on a harrowing performance and result for United almost feels like doing the home side a disservice this evening, as this will rank amongst the greatest nights in the club's history for decades to come. Van Gaal, on the other hand will simply have another few problems added to a mounting pile as he attempts to get to grips a job that has yet to yield a competitive victory in three very presentable opportunities. Javier Hernandez looked limp throughout, Evans buckled horrendously on returning from injury and the likes of Keane, Marnick Vermijl and Reece James were overtaken by the occasion. Yet even with those ten changes made  from Sunday's draw at Sunderland, there was enough quality, experience and (presumably) exuberance within the line-up to offer more than this. If a stunned, less-than-watertight response in his post-match interview is anything to go by, this result and its manner will trouble him, as so many of his young charges looked out of their depth. We learned a few things, however; that's one less piece of silverware that the club will challenge for this season, a thrashing can steal the thunder from any transfer, and United really need to remember how to win.